So HS knows my secret.
That I have a secret Id as Conner Kent. Now he goes to school with me. Well his Dad recently ( And meanly I might add.) Showed HS That Laura was a hooker. So I offered to let him Hang at the Fortress Of Solitude.
Kal had some problems with it, But we promised not to destroy any of his stuff. I think HS Was a little freaked out by the Giant Key.
" I thought that was a rumor." He stutters .
" Nope. The one that's a rumor is the one where he has a key made of a dwarf star only he can pick up."
He just stared blankly. I would think he'd be used to weirdness, after livin' with saiyans I guess not. We go in an d the first thing he is is accidentaly knock over the Bottle City of Kandor.
" Dude What are these Bugs buzzing around me?"
I Sigh. " Those are tiny Kryptonians, and other aliens, and They're attacking!"
With the help of some Superman robots, ( I didn't know he still had those things after what happened to Donna. ) I caught them and put 'em back into the bottle . Weird I could swear I just caught Ultra man , and Saturn Queen? Wait what was I saying? Something about the bottle city?
Any way for some reason I have a massive headache. And I Stumble into the Phantom Zone Projector. Next thing I know this guy is released.
"Grandson Of Jor- El! Kneel before Zod!"
HS laughs " Hey Kon! Can I soul burn this loser?"
" Go for it!" I say! Next thing we know Zod's creams and cries, I Put him back into the zone.
From inside the Zone he screams. " I'll be out of here soon! My son will make sure of that!"
Huh? Zod has a son? Ok After that mess and HS got a Starro on his face. I thought it was dead, and wanted to show him. Luckily I got it off his face. Before it took over his mind.
Then the voice of Jor-El came over the like well everything. " Kon -El stop this foolishness!"
HS Looks at the old man's face in big crystal screen. " Man who is this?"
" I guess you could say this is my grandpa. Or a computer simulation at least."
" Kon! You know better than play with the the vital equipment tin the Fortress. Wait what are you doing?"
I mess with the computers a bit . " Nothing really Gramps, just wondered what you'd look like with a beard and moustache. "
" This is an Outrage! I'll tell Kal-El about this!"
I grin " Who do you think taught me how to do this?" I then Put him the simulation in a dress. " ya know you look lonely." I After a little bit of tinkering I have Super Mario jumping off his head.
I some how figured out how to make a video game out of the simulation. What I'm not as dumb as I act, and ya Know Supes did teach me how to use the computers. So After I fix it I make a fighting game with Super Mario, And some people we know. And Jor - El.
I controlled Jor - El, And Eradicator And HS controlled A simulation of his Grand father , And Father
Well After I put game controls into it. He did a victory dance after vegeta beat Jor_ el " My grandpa totally beat your Grand pa!
" Ok I say Let's try this again Your teacher against my Da.... I mean Mentor.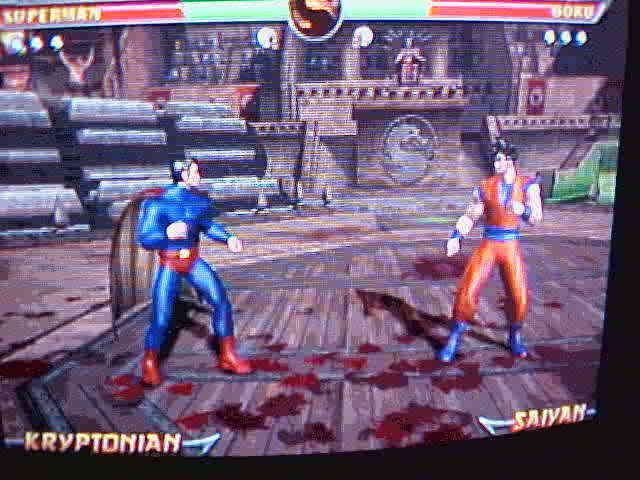 This one I totally won! Later I lured HS Into the skin color changing machine I wonder how long it'll take him to realize he's now purple? I Then had this great idea I Made A wonder man Robot using the instructions Kal Gave me and a computer for that purpose.
Check it out.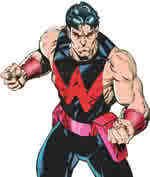 We get a good laugh. When I tell it to go and to Yamcha's house and sing love songs at his window. I wish I hadn't told Hs How to use that computer because, I went out and got some Pizzas. When I make it out back to The Fortress I see this.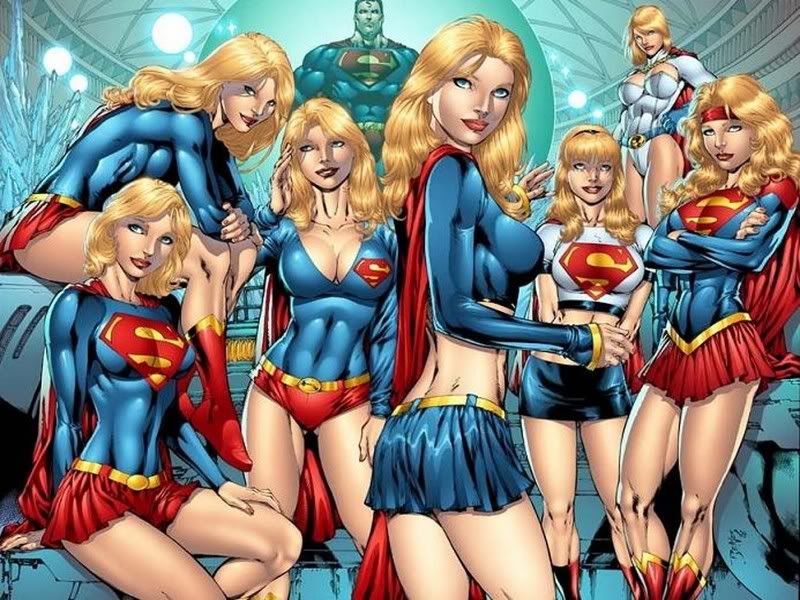 " What The Dude? Supergirl Robots? That's my Cousin!"
" Yeah Your Hot Cousin!" He answers.
Not cool!