I was chillin' at the tower with a new copy Justice Leauge Heroes, When the door gets smashed down. Solomon Grundy comes in and threatens to hug me. The whole time I'm avoidin' him, he keeps callin' me friend.
I guess he thinks that bein ' a friend means destroy somone's property, then invade there personal space. The titans come in when I'm finally caught.
" Awww Isn't that sweet?" asks Miss Martian. " He wants to hug you."
"No! Please help he smells really bad!" I scream.
" Solomon Grundey will hug him, and squeeze him , and name him George!"
I repel him with TTK But this guy's strong real strong. He fought the field and started closing his arms around me. Finally the titans get him offa me. And get him to go away.
Personally I think a lot of it was because Jericho was wearing his old costume, and I think it scared Solomon Grundy.
After that Supes and Bats show up. When they're together and looking at me and Robin like this
it's never a good thing. " It's time you two Patched up your differences." Growls Bats. " If not for yourselves then for the safety of your teammates."
So they end us on a mission to Southern City. I have no idea what kind of villains are here . West City has the world beaters, Gotham has the nut cases. Metropolis has the colouful ones. New York has pretty much everything.
But Southren City I have no idea. So we get there Robin in the Batplane , me with flight power. The whole way we're quiet. Well until Robin says " Wonder Woman wanted me to black mail you."
Great I know how that would have turned out.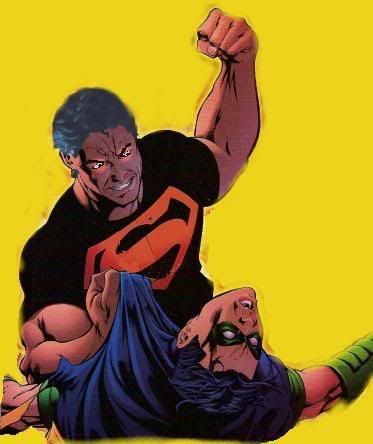 He lands the place I scan everything around with Telescopic, and X-ray Vision. " What are we doing here Tim? Like what's the mission?"
" Batman and Superman want to see how we clean up this town."
" Just us a whole city?" That don't sound right.
Robin Breaks the silence. " So You want to talk about Cassie?"
" What's to say dude?" I shrug.
" I'm not attracted to her, you know the whole kiss was just , well it shouldn't have happened. We were just friends. "
" Ok why didn't ya just tell me that instead of avoidin, me and getting me angry?!"
He shakes his head. " At first I didn't think it was you, I thought Match was messing with us again. At first when you came back you sort of acted like him."
" I ain't Match Tim."
" I know that now. Who else would play such dumb pranks on Iceman, and Starfire?"
" Hey Superman made the first call I just have a better , um imagination than he does."
" Yeah but the way Star looks at you now is priceless!" Tim laughs. " I'm pretty sure the names she's been calling you aren't compliments."
" Heh. " I guffaw when this dude pops up.
" I am Sqedgie the Carwash Clown! Fear me Teen Titans!"
There was only one response the two of us could have to that. " BWHAHAHAHHAHAHAHAHAHAHAHAHHAHAHAHAHA!"
He throws water balloons at us soap drips out all over us.
" Aw man!" I shout "That had better not be bleach Bozo! This is my favorite Shirt!"
Robin just looks " Was that it? I mean I've fought the Joker, And well that was...."
" That was lame dude!" I help out. Robin knocks Crappo the clown out with a chop. That's when we find out what kind of bad guys are here, goofy ones. It took us an hour to clean up the city,even the powered ones, well I wouldn't really call them powers.
Now it makes sense . These guys ain't dangerous in anyway. I don't think I've laughed so much since I died. Well me and Robin parted on good terms. I guess I overreacted as well.
But I'd heard from Kara that Cass went a little nuts when I was gone, and joined those Cult Of Conner weridos. I guess I'm a little overprotective of her. I should have known Rob wouldn't exploit her are anything. I guess I did I just didn't think.
Though Robin does wanna know how I came back, he says he tried to reclone me several times. Glad that didn't work out though, who knows what he would have ended up makin' it wouldn't have been me though. I told him when I find out I'll tell him.
Meanwhile
" That looks like it worked out well Bruce." chuckles Superman.
" Yes " The Batman answers. "Now the Titans can actually act like a team. Without those two bickering. So you never even considered he was Match huh?"
Supes Smiles. " I Can't explain how but I can tell the difference between him and Match."
" Hm. " is the only answer Batman has.
" Well Bruce I have to track down Luthor. His buying that car for Conner as some kind of bribe won't do."
Superman flies off But Batman knows he can hear him " Luthor didn't buy the car I did."
The Man of Steel flies back. " What?"